Yoga for Mental Health: To keep the body healthy, it is necessary to keep the mind healthy. There was a time when there was not much talk about mental health, but with the passage of time, awareness about mental health has increased among the people. Due to the hectic lifestyle, office deadlines and metro city pollution, it is very common to have many types of mental health problems like anxiety, depression. If mental problems are not addressed in the beginning, then it can become the cause of major diseases. Now it comes to what should be done to improve Ways to Improve Mental Health. The only answer to this question is yoga. To make the mind healthy, doctors and psychologists also recommend doing yoga.
In the midst of a stressful lifestyle, today we are going to tell you about 5 yoga asanas that you can do to boost mental health. The special thing about these yogasanas is that they also prove to be helpful in keeping the mind calm.
If you are a fitness freak and want to know more about yoga poses, then you can join a Yoga teacher Training India.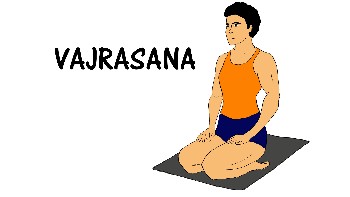 1. Vajrasana
Vajra is a Sanskrit word, which means lightning falling in the sky. It is called Diamond Pose in English. It is a meditation posture. By doing this the concentration increases as well as the mind also gets peace.
How to do Vajrasana:
To do Vajrasana, sit on a yoga mat with your knees bent.
After this try to spread the ankles outwards.
Note that the toes of both your feet should be touching each other
Now sit on the ankles and keep the waist straight.
Place your hands on your knees and take a deep breath.
After staying in this posture for 20 to 30 seconds, come to the normal pose.
2. Anjaneyasana
By doing Anjaneyasana regularly, the flow of blood in the body improves. This asana of yoga is also known as high lunge. By doing this the mind and mind remain calm. Along with this, it can also help in reducing problems like depression, stress.
How to do Anjaneyasana:
For this, first stand on the yoga mat.
Try to bend the knees while bending the legs forward.
Try to press both knees against the ground.
Now raise the arms towards the sky and join the palms
Now take a deep breath and relax
After staying in this posture for 30 seconds, become normal.
3. Virabhadrasana (warrior pose)
There are many benefits of doing Virabhadrasana. It makes the body flexible and strong. It also helps in calming the mind and the mind. People who want to lose weight are also advised to do Virabhadrasana. By doing this asana of yoga, the concentration power of the mind increases.
How to do Virabhadrasana:
To do this asana, first of all, spread the legs.
After this, rotate the hips to one side.
Try to rotate the knees in the same way in which your hips are rotated.
Now take a deep breath while spreading your hands.
After staying in this posture for 10 to 15 seconds, become normal.
Apart from this, you can also try Natarajasana, Garudasana Yoga Asana to improve mental health. While doing any of the yoga poses, keep in mind that it is a regular process. If you do not do it daily then it will not show its effect on your body. If you have any kind of health problem, then definitely consult a specialist before doing yoga.