Wearing wet boots for extended periods can cause various problems to your feet. These problems can include fungal infections, blisters, and foot odor. Wet boots can also cause your feet to become cold and uncomfortable.
If you must wear wet boots, be sure to change into dry socks and shoes as soon as possible. There are some effective methods that can help you with drying up with wet boots. Using a Boot Dryer is seen to be the best way to dry up these wet gears.
Quick & easy ways
Uncooked grains can help in drying wet boots. These grains can help absorb moisture from wet boots, making them dry faster. Uncooked rice, quinoa, and oats are all great options. Simply place the boots in a container with the uncooked grains and let them sit for 24 hours.
The grains will absorb the moisture from the boots, leaving them dry and ready to wear. This is the easiest method to dry up the wet boots and make them comfortable to wear. You can easily find the grains in your kitchen and use them effectively for drying them up.
Using newspapers & towels
Wet boots can take a long time to dry, especially if they are made of leather. There are a few common ways to dry wet boots, but using newspapers or towels can help speed up the process. It is better to stuff them with crumpled-up newspapers. The paper will absorb the moisture from the boots and help them to dry faster. Another option is to use old towels. Simply put the towels inside the boots and let them do their job.
Take off the wet boots and set them aside. If you have newspapers, stuff them inside the boots to help absorb the moisture. If you are using towels, place them inside the boots and around the outside. Set the boots in a warm, dry place. If possible, set them near a heater or in direct sunlight. Allow the boots to dry for several hours or overnight. If your boots are still damp, repeat the process until they are completely dry. Once they are dry, you can put them away or wear them as usual.
If you have ever gone for a walk in the rain, you know that when you get home your boots are usually wet. One way to dry them is to stuff them with newspaper. But what if you don't have any newspaper? A fan can come in handy in this situation. A fan can help in drying wet boots by circulating air around the boots and helping to evaporate the water. This can be particularly helpful if you have wet boots and need to dry them quickly boots. Place the wet boots on a raised surface, such as a table or chair, so that air can circulate around them. Point the fan toward the boots and turn it on to the highest setting. Leave the boots in the airflow from the fan until they are dry. Using a fan to dry wet boots is a quick and easy way to get them dry and ready to wear again.
A boot dryer is a machine that helps in drying wet boots. They are a great way to dry them quickly and easily. A portable boot dryer is a must-have equipment for people who work outdoors, such as hikers, hunters, and soldiers. How they work by blowing warm air into the boots, which helps to evaporate the water and speed up the drying process.
By removing the moisture from wet boots, they help to prevent them from developing mold and mildew. Additionally, boot dryers can help to prevent your boots from shrinking or becoming misshapen. If you work outdoors, a boot dryer is a worthwhile investment that can save you time and hassle. If you frequently find yourself with wet boots, a boot dryer is a great investment.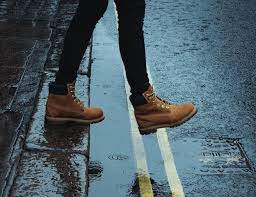 By using old towels & rages
Old towels and rags can help in drying wet boots in a number of ways. First, they can absorb the water from the boots, which will help to speed up the drying process. Additionally, they can help to protect the boots from further damage by keeping them from coming into contact with the ground or other objects.
Finally, they can help to keep your feet warm and dry by providing an additional layer of insulation. When you have wet boots, you can place them on top of old towels or rags. This will help to absorb the moisture from the boots and help them to dry faster. Plus, it's a great way to reuse old towels and rags that you might otherwise throw away.